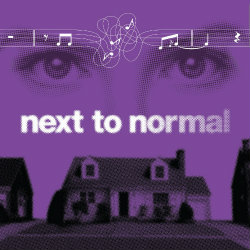 April 26, 27, and 28, 2019
Directed by Jeanne Dunn
Vocal Music Directed by David Zych
Orchestra Directed by Kevin Latoz
Ticket Information
Recommended for mature audiences (strong language and content)

Music by Tom Kitt | Book and Lyrics by Brian Yorkey
Dad's an architect; Mom rushes to pack lunches and pour cereal; their daughter and son are bright, wise-cracking teens, appearing to be a typical American family. And yet their lives are anything but normal because the mother has been battling bipolar disorder for 16 years. Next to Normal takes audiences into the minds and hearts of each character, presenting their family's story with love, sympathy and heart.
Winner of three 2009 Tony Awards, including Best Musical Score and the 2010 Pulitzer Prize, Next to Normal was also chosen as "one of the year's ten best shows" by critics around the country, including The Los AngelesTimes, The Washington Post, Rolling Stone and The New York Times.
Next to Normal is presented through special arrangement with Music Theatre International (MTI). All authorized performance materials are also supplied by MTI www.MTIshows.com
Audition Information
Who: One woman, three men, and two teens (see character descriptions below)
When: Sunday, October 14, 6pm; Monday, October 15, 6:30pm.

Callbacks (if necessary) will be October 20, 2:00-5:00pm

Where: Center Stage Rehearsal Hall at Village Mall in Danville
Prepare:

You may sign up for an audition slot ahead of time for October 14 or October 15. Walk-ins also welcome, but you may have to wait.
Script is available for review at the front desk of the Danville Public Library. Choose a song (does not have to be from this show) that best demonstrates your vocal ability.
Audition Form: MS Word (.docx)  or  PDF

What to Expect:

You will sing only about 32 measures (20-60 seconds) of your prepared song. Mark your sheet music ahead of time so that you can show it to the accompanist quickly. We may cut you off early. If we do, we promise it's not because we don't like you. We're just moving things along quickly so that we can get to everyone.
You may be asked to sing scales so we can assess your range.
You will audition individually with your song and scales.
You will read scenes from the script, either alone or with other auditionees.
Attendance at rehearsals is very important. Come to auditions with a list of any conflicts between now and the end of April 2019. Put all this information on your audition form.

Questions? Contact the production team at

[email protected]

.
Characters
Diana: Delusional, bipolar, and depressed. The sexiness of her yesterdays has only recently begun to soften. She is determined to make her family perfect but is tortured by a death in the family. Age: 40s. Vocal range: G3-F#5
Gabe: Diana & Dan's son. Dashing, athletic, and bright. He is a playful man and everything a mother could imagine. Age: 18 to early 20s. Vocal range: B2-C5
Dan: Diana's husband. He is handsome and genuine. Though a constant in Diana's tumultuous life, he has grown tired and weary of her antics. Age: 40s. Vocal range: Ab2-B4
Natalie: Diana & Dan's troubled daughter. An accomplished pianist and hardworking student, her struggles are exacerbated by her mother's behavior. She greatly admires Henry. Age: late teens. Vocal range: G3-G5
Henry: Natalie's classmate. The all-around musician, philosopher, and slacker. He has an intoxicating capacity for sympathy and romance. Age: late teens. Vocal range: G#2-B4
Dr. Madden: Diana's handsome psychiatrist. Quite assured in his practice and considered somewhat of a rock star. Age: 30 to 40. Vocal range: A2-A4