Tickets for John & Jen

on Sale Now!
2018-19 Season Memberships
On Sale Now!
Congratulations to the Cast of Disney's Beauty and the Beast
Mrs. Potts – Belinda Smith
Monsieur d'Arque – Craig Krukewitt
Madame de la Grande Bouche – Kelly Holden
Silly Girls – Alyssa Goss, Kelli Carlton, Savannah Baird, Aubrey Falconio
Bookseller – Bryson Varner
Narrator – Bryan Schroeder
Lee Bridgman, Byron Bourn, Natalya Bourne, Zach Carlson, Jon Coleman, Callaway Cox, Chris Davis, Jeff Davis, Elaina Davis, Suzy Goben, Eva Harper, Cassidy Helferich, Cora Helferich, Nancy Henderson, Nathan Henderson, Abby Hogg, Chris Huffman, Nancy Keener, Ariel Meyer, Ashley Meyer, Chloe Meyer, Halee Nelson, Nikki Nelson, Kelly Neuman, Paige Norton, Polly Norton, Jacob Nunn, Letisha Owens, Kale'a Ramos, Amber-Christine Reed, Eli Ronk, Teresa Ross, Ruey Sandusky, Sebastian Skinner, Kathleen Spain-Swiersz, Teri Sturdyvin, Jennifer Szott, 
Aiden Tibben, Sara Todd & Claire, Mac Waites, Deshoun White, Mark Willard
DLO Past President Pamela Shaw-Heath Passes Away on September 17, 2018
From her obituary:
Pam was born July 28, 1947, in Danville, Ill., to Chester and Winifred Hickman Shaw.
She married James D. Heath on January 27, 1968. He preceded her in death January 29, 1993.

While in Danville, Pam was very involved with Danville Light Opera, past board president, Red Mask Players, Gregory's Academy of the Arts, the former Sunshine II Productions, Catlin United Methodist Church and a lifetime member of Catlin Historical Society.

After relocating to Michigan, she continued her thespian activities with Ridgedale Players in Troy, MI,  and Avon Players in Rochester, MI, acting and directing until her passing.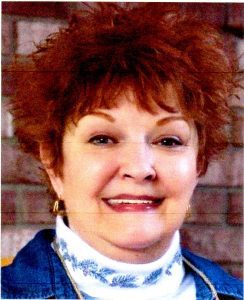 Keep up with the latest from DLO
Do you have a vision for a musical that you would like to bring to life?

DLO is always accepting proposals for shows for upcoming seasons. Please email us at directors @dlomusicaltheatre.com for more information, or to submit a proposal.