Dinner Theatre:

February 14-16, 6:30pm
Table Service dinner on Valentine's Day
Buffet dinner February 15-16
Dessert Performance:

February 17, 2019, 1:30pm
Harrison Park Clubhouse, Danville
Show Only:
February 22-23, 7:00pm
Lorraine Theatre, Hoopeston
This is the story of Jen and her relationships with the two Johns of her life: her younger brother and his namesake, the son who is trying to find his way in a confusing world. Jen and her younger brother, John, are growing up in a dysfunctional home in the ever-changing world of mid-century America. As the country becomes divided over the war in Vietnam, so does the family, and battle lines are drawn between the once-close siblings. As an adult, Jen must deal with the realities of a fractured upbringing, divorce, and an increasingly strained relationship with her son.
John & Jen is presented through special arrangement with Music Theatre International (MTI). 
All authorized performance materials are also supplied by MTI. www.MTIShows.com
Cast
Jen: Mallory Middendorf
John: Charlie Johnson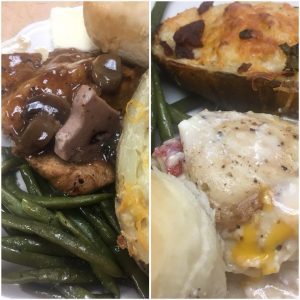 Dinner Menu
Choice of Entree
Marinated pork chops with a mushroom merlot sauce topped with a red wine and sage compound butter
Bacon wrapped roasted red pepper stuffed chicken breast
Vegetarian pasta
Side Dishes
Green beans, twice-baked potato, rolls and butter
Beverages
Iced tea, lemonade, coffee, water
Wine available for purchase
Dessert
Chocolate lava cake, bread pudding, cherry pastry pockets
Toffee by A Toffee Tale
Catering by Bluefish (Elliott, Illinois)