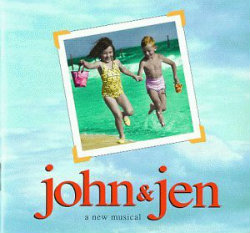 Dinner Theatre:
February 14-16, 2019
Dessert Performance:
February 17, 2019
Harrison Park Clubhouse
Directed by Paul Strain
Lyrics by Tom Greenwald | Music by Andrew Lippa
Book by Andrew Lippa  and Tom Greenwald
This is the story of Jen and her relationships with the two Johns of her life: her younger brother and his namesake, the son who is trying to find his way in a confusing world. Jen and her younger brother, John, are growing up in a dysfunctional home in the ever-changing world of mid-century America. As the country becomes divided over the war in Vietnam, so does the family, and battle lines are drawn between the once-close siblings. As an adult, Jen must deal with the realities of a fractured upbringing, divorce, and an increasingly strained relationship with her son.
John & Jen is presented through special arrangement with Music Theatre International (MTI). 
All authorized performance materials are also supplied by MTI. www.MTIShows.com
Cast
Jen: Mallory Middendorf
John: Charlie Johnson