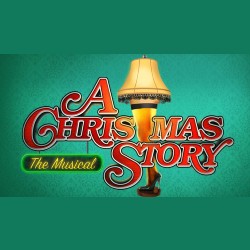 November 17 & 18, 2023 at 7:30pm
November 19, 2023 at 2:30pm
Dick Van Dyke Auditorium at Danville High School
Directed by Jerry Strain
Music Directed by Tyler Thompson
Ticket Information: $23 in advance or $25 at the door
$7 student – online or at door
Book by Joseph Robinette
Music and lyrics by Benj Pasek and Justin Paul
Based on the motion picture A Christmas Story distributed by Warner Bros., written by Jean Shepherd, Leigh Brown and Bob Clark, and upon In God We Trust: All Others Pay Cash written by Jean Shepherd
Produced with permission of Warner Bros. Theatre Ventures and Dalfie Entertainment.
The Classic Christmas Movie Comes to Life on Stage – as a Musical!
Set in the 1940s in the fictional town of Hohman, Indiana, the musical follows 9-year-old Ralphie Parker and his quest for the Holy Grail of Christmas gifts—an Official Red Ryder carbine-action 200-shot Range Model air rifle. Rebuffed at every turn with a similar echoing response, Ralphie plots numerous schemes to achieve his desperate desire for the coveted BB gun.
A Christmas Story: The Musical is presented through special arrangement with Dramatic Publishing.  www.dramaticpublishing.com
Cast
Ralphie: Silas Van Camp
Jean Shepherd: Paul Strain
The Old Man: Jordan Richey
Mother: Bailey Thompson
Randy: Marshall Gooch
Schwartz: Bodie Ray
Flick: Mason White
Scut Farkus: Jackson White
Grover Dill: Erin Cox
Esther Jane: Paityn Adams
Mary Beth: Hallie Elston
Miss Shields: Jeannette Cullum
Department Store Santa: Justin Little
Flick's Mother (Off-Stage Voice): Jeanne Dunn
Children Ensemble:
Dahlia Adair
Lenora Barrett
Olivia Cravens
Olivia Enos
Alayna Little
Lizzie Pithoud
Adult Ensemble:
Anna Bacon
Jordyn Brooks
Addie Earles
Brooke Kuchefski
Justin Little
Bella Norton
Delaney Wright