Fall Fundraiser
October 28, 2023 | 6-10pm
Tours depart every 15 minutes.
Downtown Danville, IL. Starting at Backstage (141 N. Walnut St.)
Join us for a haunting tour of downtown Danville including your favorite classic horror movie characters.
$20 per person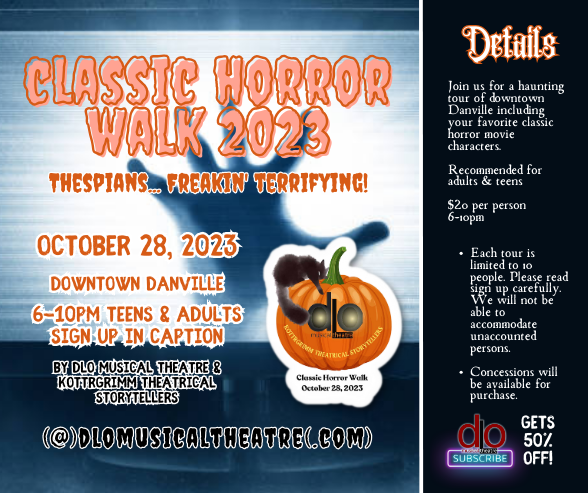 By purchasing your ticket for the CLASSIC HORROR WALK (henceforth referred to as Walk) being produced by DLO Musical Theatre (henceforth referred to as DLO) and Kottrgrimm Theatrical Storytellers (henceforth referred to as KTS), you acknowledge that you have read and agree to the following:
VERY IMPORTANT – ARRIVE AT LEAST 5 MINUTES BEFORE YOU DEPARTURE TIME TO CHECK IN! Tours are carefully timed, and each tour group will leave at its scheduled time, whether or not all parties have arrived. IF YOU ARE LATE, YOU WILL MISS YOUR TOUR AND YOUR RESERVATION WILL NOT BE REFUNDED; however, if there are openings on later tours or someone is late or a "no show" for a later tour, we will do our best to accommodate you if you want to stay onsite in standby mode. This is not a promise, but we will try our best.
WEAR YOUR WRISTBAND! All paid participants will receive a keepsake, orange, glow-in-the-dark wristband.
DRESS APPROPRIATELY! Wear comfortable, sensible footwear, and be aware that there may be splatter, so dress accordingly. You agree not to hold DLO/KTS responsible for any splatter/damage to your attire.(Note: You will never be touched by the cast.)
WALK SAFELY! The route of the Walk is along city sidewalks and crossing city streets. You are responsible for wearing sensible footwear and watching your step, remaining with the group, and being attentive. You take responsibility for any accidents or injuries that may occur as the result of walking and crossing streets, and will not hold DLO or KTS responsible for any accidents or injuries incurred through the action of walking and crossing streets as a part of your group.
NO PHOTOS, VIDEOS, LIVE STREAMING, OF OR TEXTING/TALKING ON YOUR PHONE DURING THIS EVENT ARE ALLOWED. We take this very seriously, and we will dismiss anyone from the Walk for this reason, without a refund. It disrupts the tour, it takes you out of the experience, and it, ultimately, can ruin the tour for others. Please respect the experience and the people who are bringing it to you. It's under a half hour. You can do this! 🙂
PAY ATTENTION AND STAY WITHIN THE GROUP! Each tour group has a guide and an assistant. Pay attention to any directions the group receives from the guide or assistant. This is important for timing, safety, and your overall experience.
OUR GOAL IS TO SCARE – NOT HARM OR TRAUMATIZE! There will be lighting effects, including strobe lighting. There may be jump scares, but you will never be touched. There will be special, somewhat gory make-up effects, costumes, and actions. This is a HORROR walk. It will not be for the squeamish. By purchasing a ticket, you acknowledge your understanding that you will encounter frights and sights intended to scare.